MEET THE WALKERS
IMRAN
Imran is our Walker in Chief and golf dreamer. An Entrepreneur who cut his teeth in denim. With a passion for function & fashion he has number of brands within his portfolio. His stewardship of Corfu and Outback has seen him navigate many storms building his business. Weekends can see him on the green or in the clubhouse dreaming of what could have been the perfect round. He believes that Freeworld has the vision to create the perfect golf shoe (but don't tell Charlie). Until then he relaxes in the Bio Slide, ideal for fairway feet that rarely get a break and need to cope with a variety of courses; whether in Singapore, the Gold Coast or in the den on his snooker table.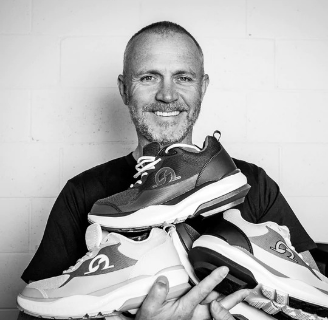 MIKE
Mike is our brand specialist and International Traveller - now Zoomer. An Entrepreneur with a passion for travel he has developed a number of footwear brands as well as managed some global iconic brands. His work with Hunter Boots, Ugg Australia and Swims has seen him walking many miles in the pursuit of brand perfection. Often seen strolling "the bay", he believes that the Freeworld range is ideal for hard working feet that rarely get a break and need to cope with a variety of terrain, whether the walking trails of Sydney, the city streets of London or the country lanes of his home town, Lake Windermere.
CHARLIE
Charlie is our engineer, footwear doctor and factory genie. An Entrepreneur with a passion for excellence in footwear, we think he is robot that never sleeps. His work with K2, Nike and now Freeworld, Charlie is 'our' shoe dog with many miles banked doing the math. Often seen with family and friends dreaming of summer as Autumn sheds its leaves bush walking Korean style. He is a believer in our mission that the Freeworld range has got the right mix of Australian design and Korean build to cope with challenges of the urban walk and or post gym cool down. He tells me that Seoul coffee shops are better than Australia's - really Charlie, really!?
WALKING AND WELLNESS - THE BIG DEAL ABOUT WALKING
From the beginning, Freeworld set out to create the ultimate walking shoe for foot recovery.

This was no whim. As diehard athletes and travelers, our team is not alone in suffering from the acute foot and joint discomfort that comes with pushing yourself. Sports injuries affect millions of Australians each year. For many, walking ends up being their best medicine.

Freeworld is the definitive walking shoe. It's also a recovery shoe, engineered to address the top five inflammatory, muscular and fatigue-related foot problems of active people.

A couple of reasons we'll never stop walking:
Walking helps reduce body fat, lower blood pressure and increase high-density lipoprotein
A brisk 30-minute walk is proven as an antidepressant for people of all ages
Walking increases blood flow to the brain and, in turn, thinking skills.
It makes for a greener planet, since more distance walked means less vehicle carbon emitted.
It's low-impact, accessible, equipment-free and age-proof
Experience the benefits of our skin-soft, super-supportive, biomechanically designed walking shoes. Meet the team behind the inspiration, design and manufacture of a new way of being active.
Born in Australia and made to roam the world, Freeworld is the nearest thing you'll get to foot nakedness – soft and bare yet supportive. Standing firmly behind the product is a team deeply committed to a more mindful way of living.