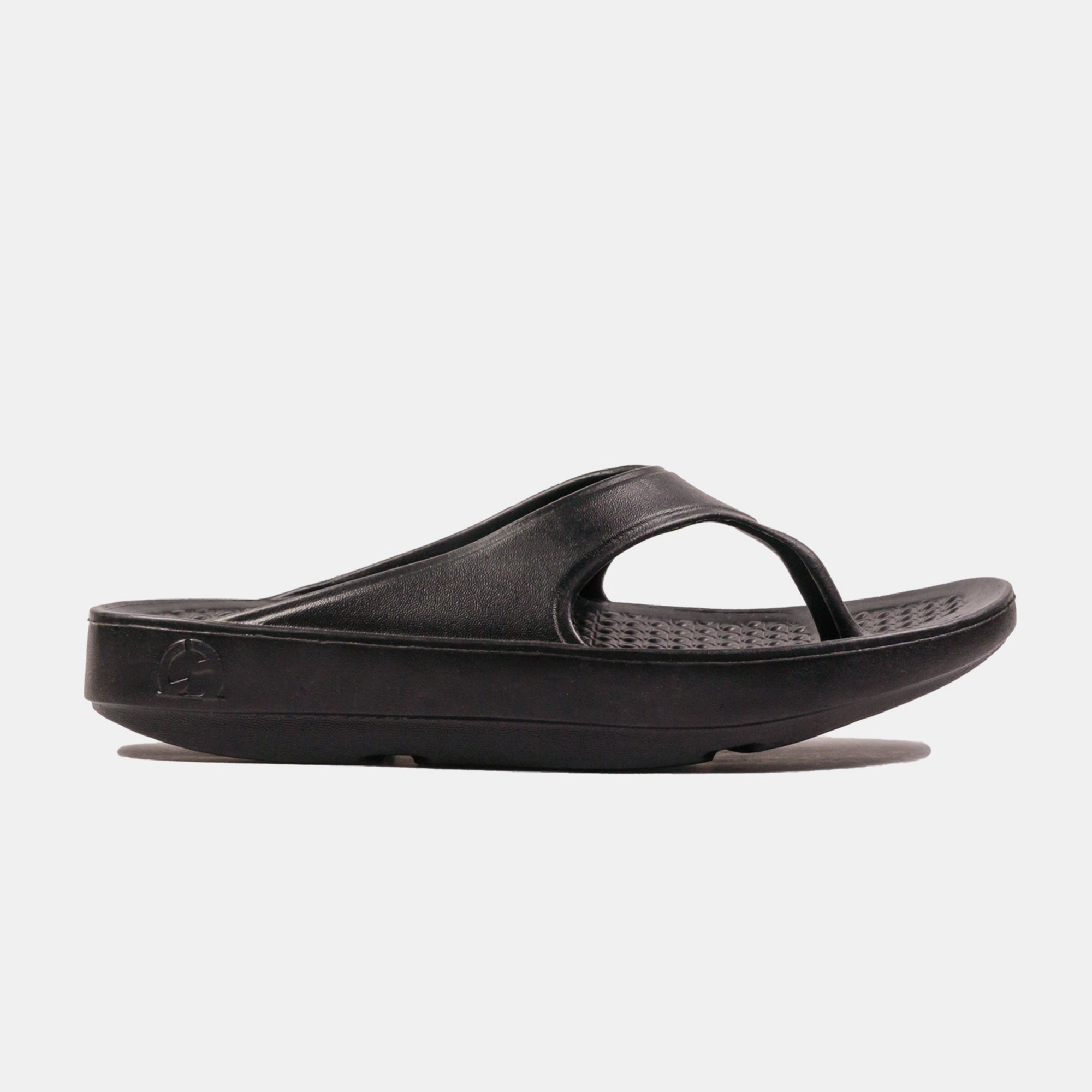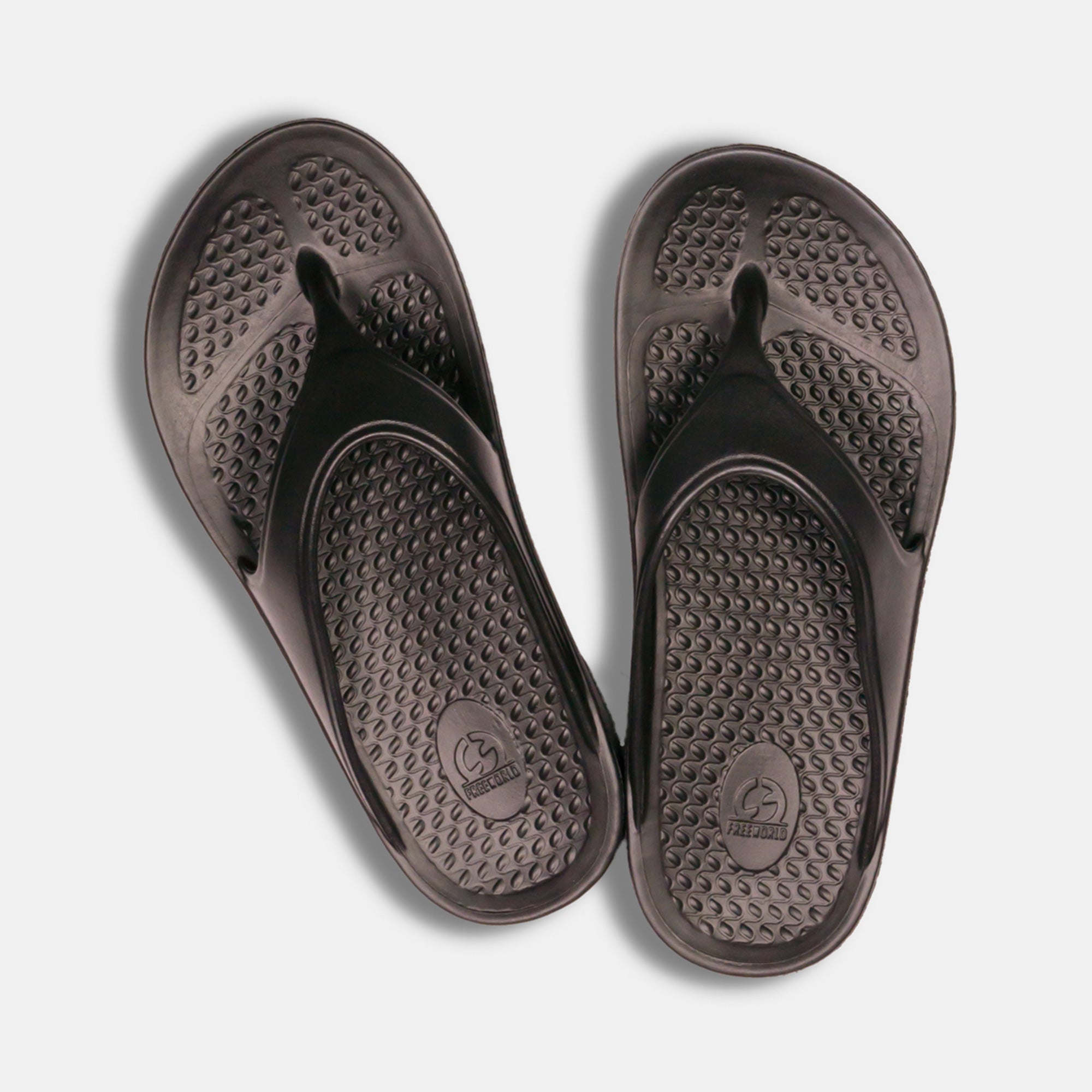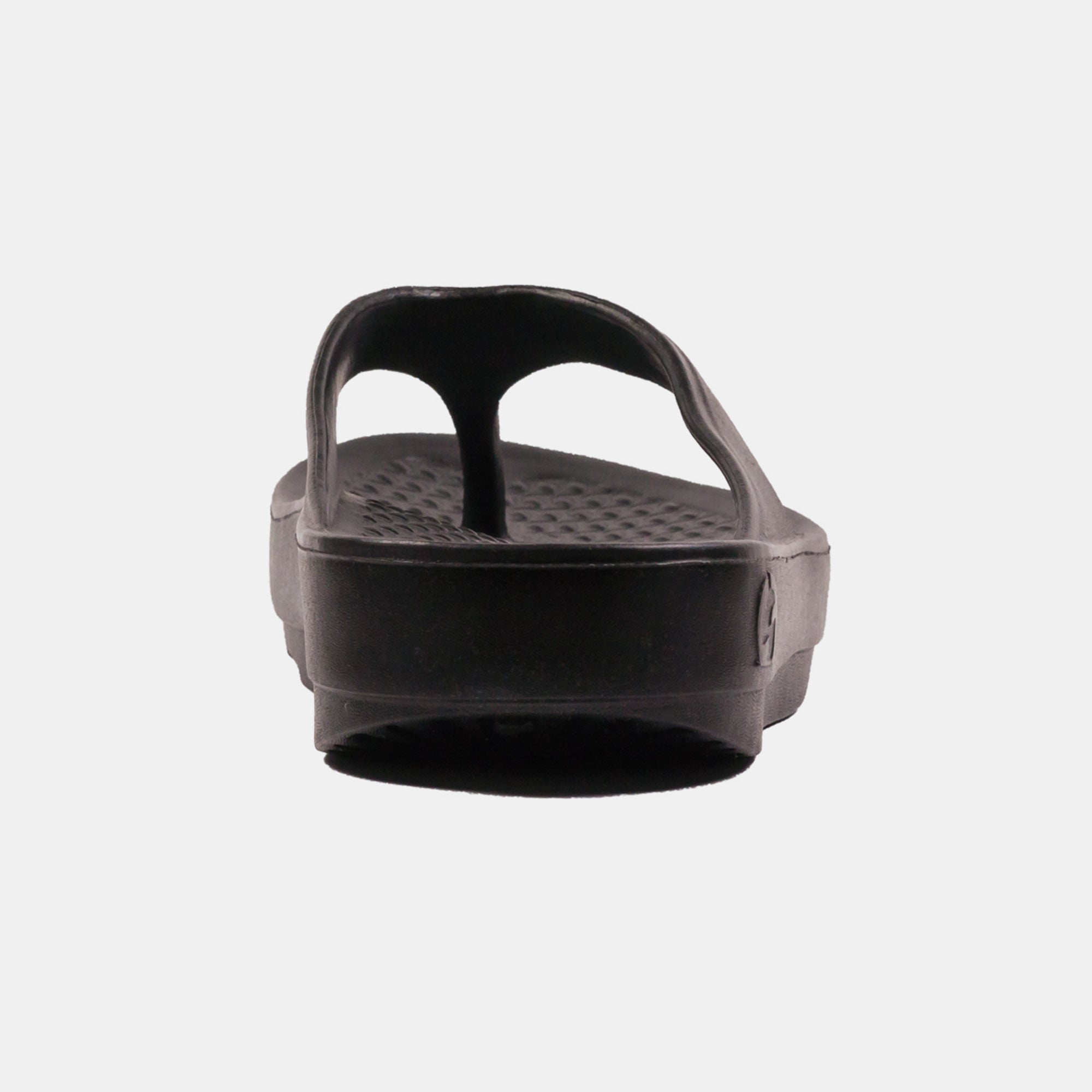 Unisex Flip Flop - Black
Flip-Flops for recovery

The Freeworld Australia original recovery thong sandal, with its rocking sole to strengthen the arch and ankle. The Original is the first iteration of what has now become our biomechanically engineered Bio-Thong.

A true action and recovery Flip-Flop.  

The classic thong gets a modern science twist in our recovery Flip-Flop. The ultimate everyday active sandal. The recovery Flip-Flop is constructed using our R4 cushioning technology for ultralight comfort and powerful shock absorption.

R4 stands for Relax, Repair, Refresh, Recover. Our technology ensures full foot care, whether active or taking it easy.

Relax – The massaging footbed and curved profile means that the sole of your foot is in the perfect position to de-stress at every point. Toes are extended and unflexed after hours of confinement in tighter shoes. Heels are protected from further impact and the feather-light, skin-soft material creates an almost barefoot feeling.
Repair – When you've been on your feet for long periods of time, your whole body has been in a state of tension. The rocking structure of the thong means that, as you walk, your muscles are extended and stretched. This releases them from habitual standing or walking positions, reducing cramps and allowing the body to repair naturally.
Refresh – Putting your feet up is not the only way to refresh yourself after a long day. In fact it can be more beneficial to treat your body to a proper warm-down, even if you've not technically been doing 'exercise'. The Freeworld Australia Original Thongs allow you to refresh your body as you move, reducing the possibility of stiffness later in the day.
Recover – Your feet carry you the whole day. Allowing them to recover before another challenge is essential to reduce fatigue. Fully recovered and revived feet also fill you with more natural energy for the next day. Our recovery flip flop is guaranteed to make sure you have a spring back in your step the next morning.

Our anatomically designed footbed offers superior arch support, taking comfort and grip to a new level. With our four-way channel outsole that distributes foot weight for superior control, the Freeworld Flip-Flop is an easy choice for all-day activity.

Freeworld | Walk with Australia | Walk yourself Well.

 

Features

Odour-resistant | Non-marking | Waterproof | R4 technology | Impact absorption | Arch support | Rocking sensation | Waterproof | Massage footbed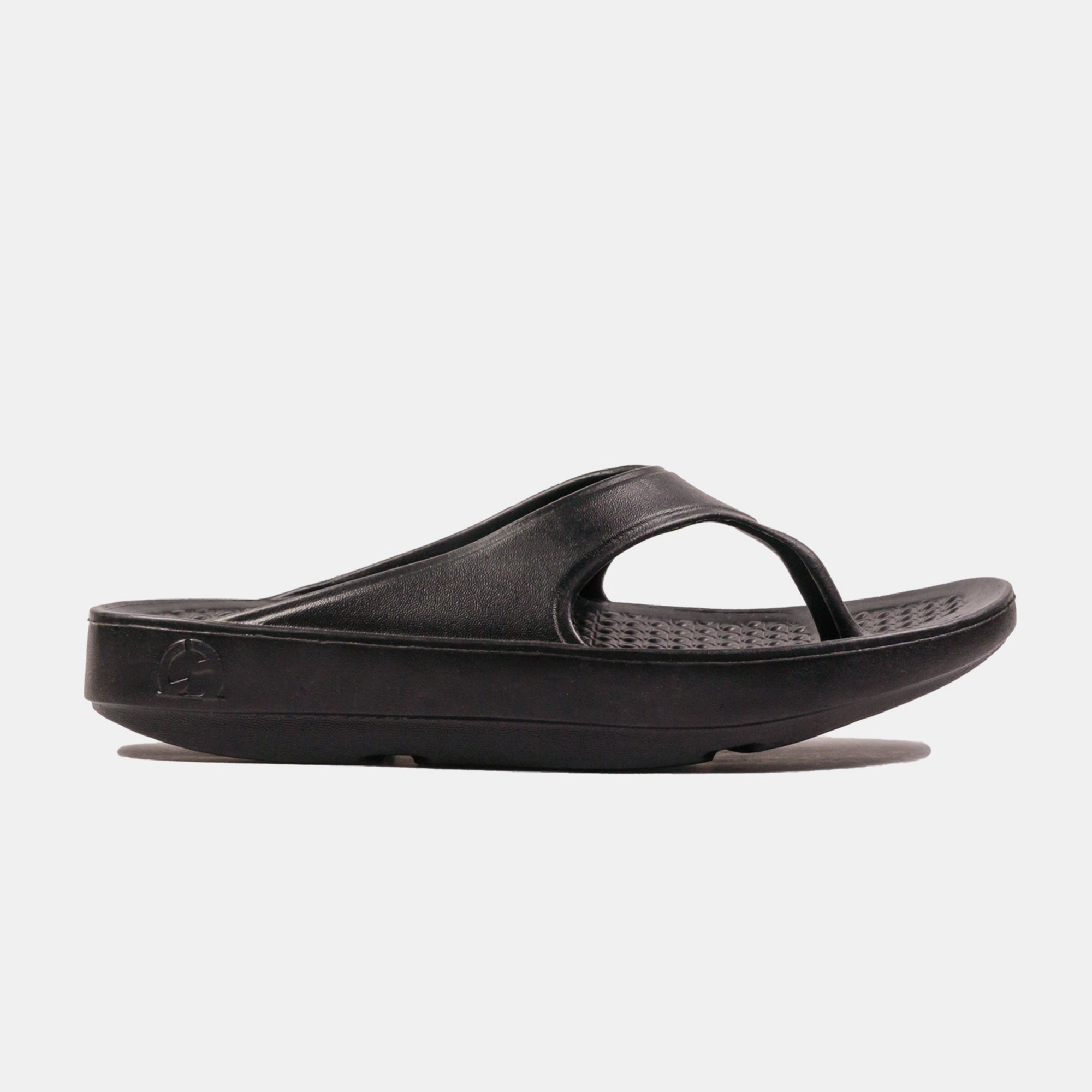 This product has no reviews yet.
Regular flip flops aren't doing your feet any favours. The BIO-Style range was created to restore your feet and keep them happy.
Designed for Recovery
Our ultra-soft yet ultra-supportive BIO-Style sandals provide superior structure, shock absorption and comfort.
Machine Washable
and odour resistant
Arch Support & Toe Protection
supports and protects the foot
Elanothene+C™ Rocking Sole
for Skin-Soft comfort & impact absorption
Massage Footbed
loosens & warms down muscles
Four-way Channel Outsole
distributes weight evenly reducing strain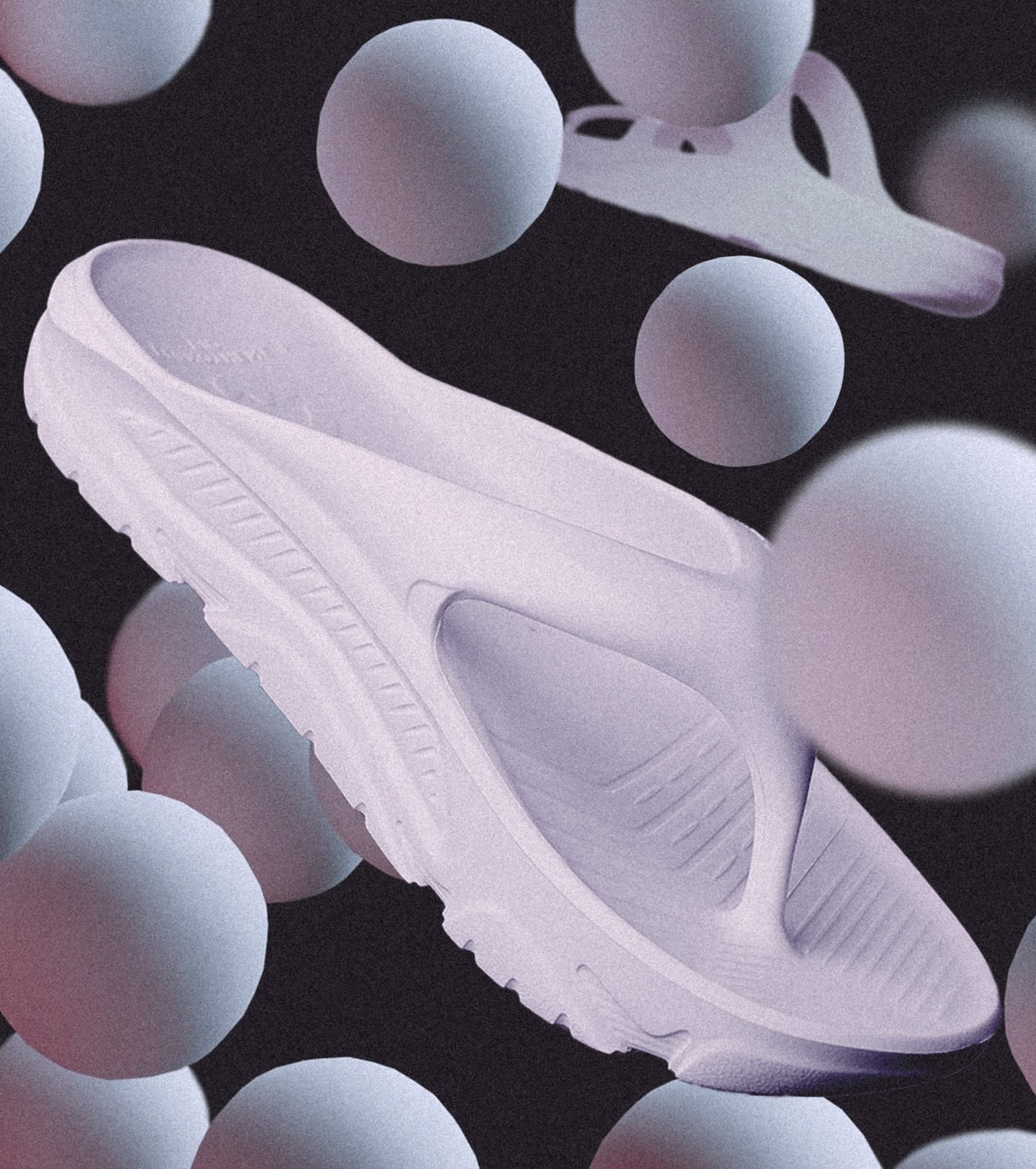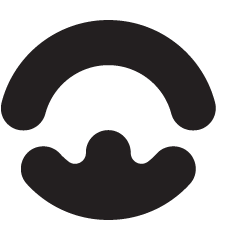 Built for Stability
Our entire RECOVERY© range is made from our skin-soft ElanotheneTM - ensuring maximum comfort and impact absorption.
REST. RELAX. REPAIR. RESTORE.